The Houston Palestinian-Jewish Dialogue Group


The Houston Palestinian-Jewish Dialogue Group was a group of people who are committed to listening to each other with open, caring hearts to form relationships and begin to understand each other's experiences. The group's first meeting was on September 11, 2005. The group met monthly or bi-monthly 2005-2010 in the homes of members and was unaffiliated with any other organization. It was a grass-roots effort facilitated by Sharon Joy, and based upon the model of Libby and Len Traubman and the Jewish Palestinian Dialogue Group of San Mateo, CA.

Why Dialogue?
There are some things only governments can do, such as negotiating binding agreements. But there are some things that only citizens outside government can do, such as changing human relationships.
Dr. Harold Saunders, former U.S. Secretary of State, and negotiator of the Camp David Accords

Perhaps through this group and others like it, we can begin to listen to each other, to share our stories, and to form relationships. Many of the participants are still in touch with each other. The foundation for peace is built by people who know each other.

For information about this type of dialogue please go to: http://traubman.igc.org/faq.htm.

Outreach Events
November 2008 A Call to Dialogue, Houston Texas

Over 80 community members attended this event, which featured special guests Libby and Len Traubman and Elias Botto of San Mateo, CA.

September 2009 Presentation at Kol HaLev's Rosh Hashanah Day Two
Sharon Joy and other Dialogue group members presented information about the group to the congregation of Kol Halev, a Houston Jewish Reconstructionist Havurah, at their second day Rosh Hashanah service.
"
Out beyond ideas of rightdoing and wrongdoing there is a field. I'll meet you there"

.....Jelaluddin Rumi (1207-1273)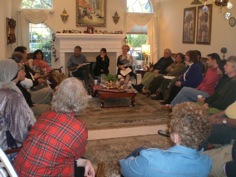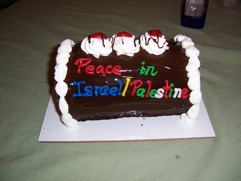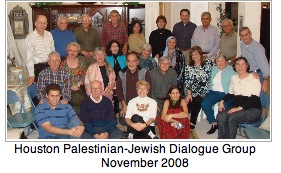 July 2009 Israel/Palestine
During a trip to Israel/Palestine in July 2009, Sharon Joy participated in three formal Intercultural Dialogue experiences in association with the
Interfaith Encounter Association
. These were the Jerusalem
Women's Group
and
Reut Sadaqa,
also in Jerusalem. She attended a
retreat
at the Austrian Hospice in the Old City of Jerusalem that was sponsored by the Interfaith Encounter Association and the Palestine Peace Society of Hebron. The attendees from the retreat have continued to meet as a group, sustaining the action of dialogue and relationship-building.

Sharon Joy also attended a meeting of the intercultural council in
Maghar
village in the Galilee. She visited the Jerusalem
Hand-In-Hand School
and the
Arava Institute for Environmental Sciences
, both dedicated to bringing people together.


April 2009 Dialogue Facilitators Conference
Sharon Joy and Hanan Patel participated in a conference at Monmouth University in Long Branch, New Jersey. Representatives from 14 dialogue groups in the United States, Canada, and Israel/Palestine came together to share about their groups and exchange ideas.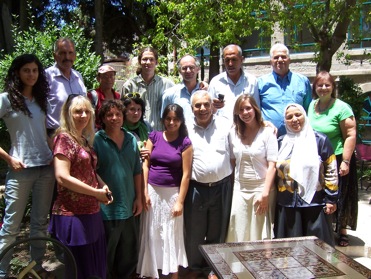 Retreat Participants, Austrian Hospice, Jerusalem, July 2009

Click here for links to additional programs and organizations that are actively supporting
communication and understanding in Israel-Palestine.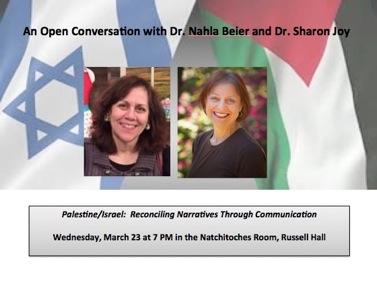 In 2011, 2012, and 2016 Dr. Nahla Beier and Dr. Sharon Joy presented "open conversations" to the Northwestern State University community and the Louisiana School for Math, Science and the Arts.

Beier experienced the Israeli occupation of her neighborhood in Jerusalem as her family was forced to flee during the 1967 war. As a Jewish teenager in New York City, Joy went door-to-door, raising money for Israel during the same 1967 war.

How can these two women who grew up in cultures with such dramatically opposed historical narratives become such close friends? And if friendship and understanding can exist in this relationship, is it possible for others to overcome cultural conditioning? Can a model of communication and understanding end a cycle of suffering and war?
Sharing personal narratives is the first crucial step in discovering common ground.

Drs. Beier and Joy are available to present this event at locations in Texas and Louisiana.
Contact Sharon Joy for scheduling information.